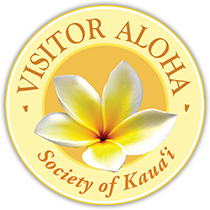 About the Visitor Aloha Society of Kauai VASK is a 501 (c)3 non-profit organization, funded in part by the Hawaii Tourism Authority. Our mission is to extend our aloha spirit to visitors who may have been affected by crimes, medical emergencies or other unfortunate experiences during their stay on the island of Kauai.

Although we feel Kauai is one of the safest travel destinations in the world, all crime cannot be prevented. The Visitor Aloha Society of Kauai provides aloha to visitors who become victims of crimes while on Kauai.

The Visitor Aloha Society of Kauai partners with the Kauai Police Department (KPD) and the Kauai Marriott Resort and Beach Club to ensure that visitors who are victims of crime are cared for and assisted with a "touch" of Aloha.

The Visitor Aloha Society of Kauai not only extends comfort and compassion amidst the upset, it also helps victims notify the proper authorities and agencies to receive temporary identification (especially for international visitors); cancel their credit cards; replace eyeglasses, medication, and airline tickets; or rearrange flight reservations.

Tourism impacts everyone in Hawaii - directly or indirectly. We want our visitors to know that we care and are here to help when there is a need. With VASK, residents reach out to our visitors with the spirit of aloha to assist in a challenging time, whether it's replacing a prescription, changing a flight reservation or simply having a compassionate ear.

Executive Director - Daphne Therese, Visitor Aloha Society of Kauai
President - Sue Kanoho, Kauai Visitors Bureau
If you have been a victim of crime or other adversity and need VASK assistance, please file a police report, and call our 24 hour helpline. For visitor information and other important phone numbers, click on
Safety Tips
.
"We consider our visitors to be part of our extended 'ohana. When they are in need of assistance and may not know where to turn, VASK is always there to offer support. VASK truly embodies the spirit of aloha and our community is very grateful for its efforts."
-Mayor Bernard P. Carvalho, Jr.
The History of VASK
The "Visitor Aloha Society of Kauai" (VASK) program was first launched in 1996 by the Rotary Club of Honolulu. In 1997 the Visitor Aloha Society of Hawaii was established as its own non-profit agency.
Kauai's VASK began providing services in 1998. The program recognizes that much of our economy is involved with the visitor industry. It also recognizes that crime can happen anywhere, even in paradise. Visitors who are referred to VASK are often without resources or other support systems - such as local knowledge, family and/or friends - at a time when those things are most needed. VASK volunteers help them navigate the steps they need to take to recover from acts of crime and other adversities.